28th Annual Emergency and Municipal Apparatus Maintenance Symposium
The September OAEVT symposium for 2020 has been cancelled.
Stay safe and healthy, and we will see you in 2021.
In Memoriam – Dan Mattis
It is with heavy hearts that we advise that we have lost one of our members and OAEVT's Central Director, Dan Mattis . Please see below. Dan was a member since 1992 and served the Central Director position since 1994.
May God rest his soul.
September 24, 2020
Hoping this finds everybody in good health in this difficult year. You should be aware by now that there was no OAEVT Symposium or training of any kind this year. Since we are not having any type annual banquet or meeting I have done the best of my ability to give everybody a chance to nominate somebody for any of the open positions. Nobody at all responded with any nomination so I am casting a ballot Unanimous Consent" as allowed in Robert's Rules of order page 68.
The entire slate of Officers will remain unchanged for the remainder of 2020, 2021 and be up for election again September 2022.
I would like to congratulate "ALL" of our Officers and challenge them to spend some time to make 2021 a much more successful year than 2020 was. You all need to strive to bring about new and better ideas to improve the quality of the EVT's knowledge and professionalism.
I would also like to note that there was zero nominations for 2020 OAEVT of the Year which was very disappointing. I hope to see multiple nominations in 2021.
Thank you
Connected Cars are Ripe for Hacking
New technology is being incorporated into vehicles at a dizzying pace, especially in terms of communication and connectivity. Millions of vehicles with Internet-based features are already on the road across the country. Internet connectivity creates a perfect opportunity for hackers to take over vehicles, with potentially deadly results.
Consumer Watchdog worked with a group of car industry technologists and engineers concerned about the danger of Internet connectivity in modern non-self-driving cars and their susceptibility to hacking. They created a report that outlines concerns about the security design flaws in the new fleet of connected cars and serves as a basis for conversation and new security protocols.
NFPA Pro Qual Board Meeting
San Antonio Texas
By Al Conkle
OAEVT Members,
I recently had the opportunity to attend the NFPA Professional Qualification (Pro Qual) Board Annual Board Meeting.  The Pro Qual Committee meets at least annually to discuss and review any of the Standards that are overseen by the NFPA Pro Qual Board (I believe there are now 30) and review where they are in the revision cycle. They oversee the content and exactly how the specific standard is written, how it meets the NFPA processes and formats.  For instance our NFPA 1071 Professional Qualification for Emergency Vehicle Technicians is a JPR standard and is intended to list Level I, II, & III EVT jobs, duties, and tasks.  The NFPA 1071 update cycle has just come to a conclusion and as Chair of the standard it was my duty to report on our progress, what we did and how, and to answer any questions presented by the board.  The Board had no questions and we were complimented on the smooth progression through both public comment periods and several task group meetings and the mandatory two 1071 full group meetings. We were very pleased at the work this last three years by the committee that led to a very successful conclusion.  As Chairperson of 1071 that also seats us (OAEVT on all of the PRO QUAL Standards) and we (OAEVT) are expected to participate in all the meetings.  Thankfully the majority of these meetings offer the opportunity to participate via phone and computer.
I just jotted down a few notes on a few of the key topics discussed at this meeting as I thought that some of this information may be enlightening to each of you or your Fire Departments.
There was a good discussion on the balance of each standards committee and the importance to attend the meetings. There was also much discussion on the importance of having an Alternate for each seated 1071 member. OAEVT has this accomplished with Al Hasenfratz as our/my Alternate.

 

Click here for the PQU-EVM Roster.

 

You can easily see that we are in need of several members in several areas to balance out our group.

 

We are very heavy in the User group only. It was noted that the NFPA is now tracking active participation and reviewing voting of those members in an attempt to remove inactive members from the roster. Remember these are voluntary seats so nobody gets paid to participate.
There was a lengthy discussion on a NFPA Workshop to be held at the headquarters October 1 & 2, 2019.

 

This is a workshop open to only current seats on a Pro Qual Standard. This sounds like a great workshop, " How to approach recertification or how best to keep abreast of technical updates."
There is currently a big effort of NFPA to combine the standards that may work well with each other.

 

The NFPA has developed a time line for this process.

 

Click here for this report.

 

This may be a nice advantage not only for us but for all of the Fire standards.

 

We will be grouped with NFPA 1911, 2023 Standard for Automotive, Wildland Fire Apparatus, Aircraft Rescue and Fire-Fighting Vehicles & Ambulances 414, 1901, 1906, 1917, FDAAAA would be responsible for Chapters 1-3 and any common annex material.

This inclusion of standards would include Forestry and ARFF with our 1071.  So it looks like our work is just beginning should we merge all these standards and be completed by 2023.  This will be an interesting challenge for OAEVT to be part of.

Discussion on revising all current Standards to have an Annex B that would explain the Pro Qual process and the role that IFSAC and the Proboard play.
Next meeting date was discussed and it appears that June 2020 in Orlando may work best for all parties.

 

NFPA will report to us with final dates.

   

Respectfully Submitted
Al Conkle
Executive Director, NFPA 1071 Chair
Ohio Association of Emergency Vehicle Technicians
Ohio Association of EVT's is proud to say that Al Hasenfrantz has been named EVT of the Year!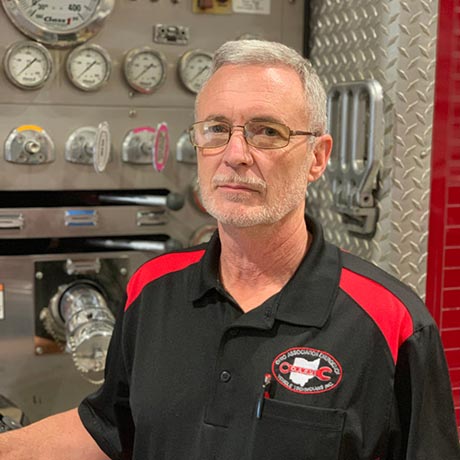 Firehouse is pleased to announce the top five winners of the 2018 Emergency Vehicle Technician (EVT) of the Year Award, which recognizes outstanding efforts to promote a high standard of excellence in quality and safety in emergency vehicles.
In first place is Al Hasenfratz, a Master EVT with the Sylvania, OH, Fire-EMS Department. With over 30 years of experience in vehicle repair and 13 years at his department, Hasenfratz has changed the "mechanic/firefighter dynamic" in Sylvania Township.
One letter nominating Hasenfratz stressed his passion for safety: "Al is always eager to latch onto each and every teaching opportunity to help educate others on the proper and safe best practice."
Hasenfratz is a Master Heavy Duty EVT, certified by the EVT Certification Commission, and a Master Heavy Duty technician, certified by the National Institute for Automotive Service Excellence (ASE). He is an active member of the Ohio Association of EVTs (OAEVT), serves an alternate for NFPA 1071: Standard for Emergency Vehicle Technician Professional, and serves on the EVT Certification Commission Task Group.
OAEVT is happy to announce that the Annual Emergency and Municipal Vehicle Maintenance and Repair Program will return in September.
Click here for more information.
A core value of our company is to provide customers with excellent service before & after the sale, and we take great pride in our service capabilities. The Service Technician role is a critical part of fulfilling this goal. We're looking for the best combination of technical and mechanical skills to service apparatuses while maintaining positive relations with the Fire Departments we service
Click Here for More Information