OAEVT is very pleased to announce the OAEVT OF THE YEAR!  
This award recognizes an Outstanding EVT and is a prestigious honor.
It is with great pleasure that we/OAEVT Announce that Zack Bergman is the recipient of this prestigious award.
Zack Bergmann of Jackson Township in Stark County has a higher caliber of focus and persistence that goes into his daily work. Which remarkably reflects on the work he puts out. Zack has devoted twenty-three years and counting, working on emergency vehicles and of those twenty-three years; ten of those he has been a Master Certified EVT Technician. Zack's expertise has influenced his fellow colleagues in furthering their education and certifications. Zack's career so far is nothing short of exceptional.
Zack is a current member of OAEVT. He has 6 years at Jackson Township and 15 at Perry Township.
EVT Master Fire App.
EVT Master Ambulance
EVT Law Enforcement
ASE Master Auto Tech.
ASE Master Med/Heavy Truck
ASE Advanced Level Specialist in Engine Performance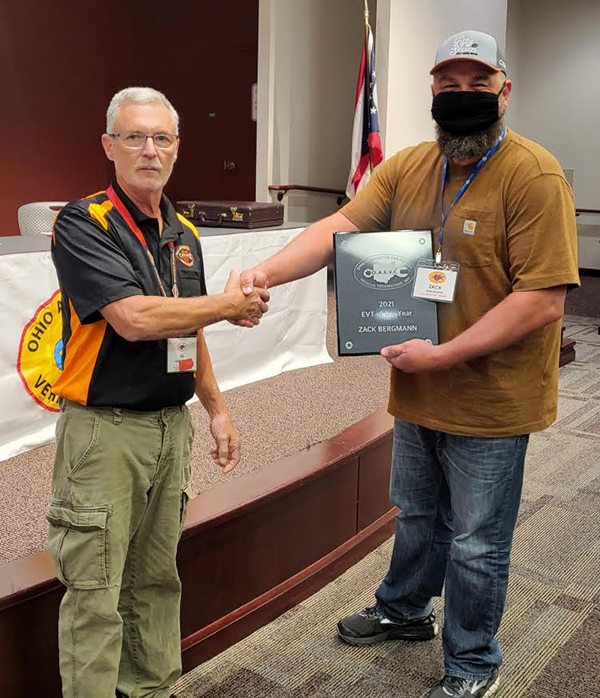 NFPA 1910
Standard for Marine Firefighting Vessels and the Inspection, Maintenance, Testing, Refurbishing, and Retirement of In-Service Emergency Vehicles
We have been very busy these past few years with NFPA.  We still Chair the NFPA 1071/1910 Standard and participate in all of the Proffessional Qualification Standards (29).  So your OAEVT is active in the process. 
NFPA began an aggressive effort to consolidate Standards a few years ago.  Our 1071 Professional Qualification for EVT's Standard is being consolidated with 1911 Automotive Testing Standard, 1925 Standard for Marine Firefighting Vessels, 1912 Refurbishing Standard.  The new standard will be numbered 1910 and tentative effective date will be 2024.
We have worked through the first stage of combining those standards .  Public comments are open for consideration from September 3, 2021 through November 12, 2021.
Below is the link to go to so you can see what the new 1910 Standard will look like. It is divided into separate chapters where specifics are necessary. This new version will include all Emergency Vehicles (see the new revised definition) including ARFF, Ambulance, Trailers, Refurbs, Marine Vessels, Testing, High Pressure Pumps, EVT's and more.  You can view the purposed 1910 and make comments on-line.  All comments will be addressed by the Committee so this is your chance to make improvements in YOUR Standard!  Note at this stage no NEW Subject material can be added, however corrections and additions to existing content are welcomed.  The NFPA web site will ask for a sign on, If you or your FD are not members you can still register and get a sign on FREE!  Should you have an issue maneuvering into the 1910 document don't hesitate contacting me for help, 419-351-8050 or alconkle1@aol.com.  
Saturday, March 12th, 2022
Ohio Fire Academy
8895 E. Main St.
Reynoldsburg, OH 43068
10:00 AM
Topics: Symposium 2020, EVT Training
Safety Through Education and Training
A core value of our company is to provide customers with excellent service before & after the sale, and we take great pride in our service capabilities. The Service Technician role is a critical part of fulfilling this goal. We're looking for the best combination of technical and mechanical skills to service apparatuses while maintaining positive relations with the Fire Departments we service
Click Here for More Information